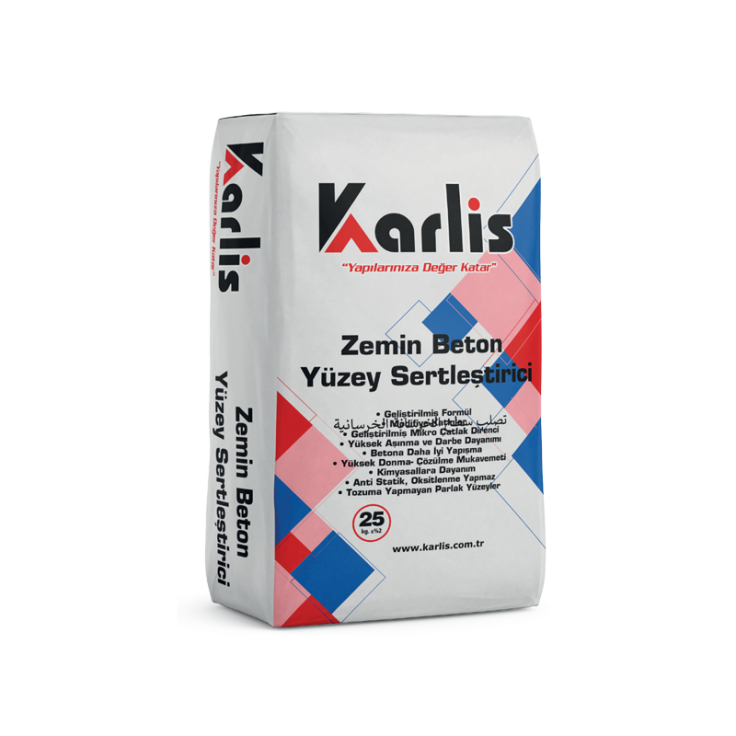 Surface Hardener Cement Based Abrasion Resistant and Dust Protection Aggregates Used and Color Alternative Surface Hardener reinforced with polymers
DEFINITION
• It is a cement-based, ready-to-use powdered and modified surface hardening material that will be used under heavy load, containing a mixture of high quality natural aggregates (QUARTZ, BASALT, KORUNT, and CALCITE) *, sprinkled on freshly polished concrete surfaces on floors where high abrasion resistance is required.
ADVANTAGES
• Besides its high abrasion resistance; Resistance to point impacts on the surface, Freeze-thaw resistance, Low water absorption, Acid, oil, toluene, fuel oil, chlorine salts and chemicals, Anti-static, non-oxidizing, easy-to-clean, dirtfree, dust-free smooth surfaces. It does not contain toxic toxic substances.
• It is produced in natural colors depending on the type of aggregate used or red and green colors, optionally using inorganic pigments for decorative applications.
SCOPE OF APPLICATION
• Indoors and outdoors, on floors with heavy traffic; It has a wide range of usage areas such as Industrial Facilities, Factory, Warehouse, Workshop, Mechanical Workshops, Car Parks, Garages, Harbors, Aircraft Hangars, Shopping Centers, Loading Areas, Gas Stations, Sidewalks, Schools, Hospitals.
SURFACE PREPARATION
• The advantages of surface hardener application occur on the surface of concrete or screed applications. Concrete has no effect on compressive, tensile and bending strength. Likewise, it is not true that the selection of concrete in the high strength class, such as expressing the compressive strength class of concrete (C25 / 30), will not require surface hardener application.
• If the application is made by pouring Alum Concrete on the existing Concrete, it is applied separately for monolithic and surface screed. In monolithic applications, the cement grout on the existing concrete surface should be scraped and cleaned with sufficient roughness. Before starting the application, the surface should be saturated with water and free water on the surface should be prevented. If necessary, adherence enhancing primer should be applied to ensure sufficient adherence between old and new concrete. In surface screed applications, the new concrete should not be adhered by laying nylon cover on the old concrete. In accordance with the dimensions of the area to be cast, the anolar is determined in the form of a square. Steel molds to be used in anodes are recommended to be 3 meters long and 4 cm thick. Anolar should be placed by level control especially in wide application areas according to the concrete finish level. Floating or monolithic screed is applied on the saturated surface according to the need. The thickness of the screed to be applied is over 7cm, the concrete to be preferred; at least C25 in its class, Dmax. It is recommended to have 2 cm water / cement ratio over 0.45. Depending on the choice of fresh concrete, super plasticizer should be added if necessary and the slump value should be 16-18 cm.